Phuket Escape
Just after two weeks back from Perhentian Island, Im off to Phuket, Thailand...for REAL!

DAY 01
By right, our flight was supposed to be at 15:00, but it was delayed to 16:00 (yerp, its Airasia definitely). My dad sent us (me and Ikha) to LCCT using the new open Dengkil - Sepang freeway. We reached there around 1pm, yerp very early since my dad have some other important things to do. Around 3pm, others colleague of Ikha's finally arrived. We check in and wait for our Airbus to arrive.

I called Bard and let her know that I am about to board into my flight, and she swing by to send me off. By the window, and near the wing is my favorite seat. The flight is about 1 hour 15 minutes, much shorter than flying to Kuching. Oh ya, Phuket is one time zone behind Kuala Lumpur. I did fall asleep awhile, when I woke up there's this small little islands scatter below us.
Upon arriving, all foreigners need to fill in the visiting form. We walked straight to the van shuttle service. Eight of us gets a ride and we stopped by a tour agency and I think all of us were being ripped off by the tour agency. As decided, 6 of them will go on snorkelling in Phi Phi Island, while me and Ikha will be going to Phang Nga National Park, on a canoe trip.

We requested the driver to bring us to one of the best spot for some new dining experience, i mean the special mouth-watering hot tomyam and the delicious seafood variety. So, we arrived at a restaurant, forget-the-name, but it was located by the sea and beside a fishing village somewhere in Phuket town. The food was ok, but not as expected. Tomyam, green curry, black pepper crab, sweet and sour fish for a price about 4000Baht.
Finally we hit the road again, and this time to Royal Paradise Hotel in Patong. Check-in, cleaned myself and and take a stroll outside with everyone...


DAY 02
Woke-up at 06:15am due to my phone daily alarm, which was 7:15 according to Kuala Lumpur. Still early, kill my alarm and get back to sleep. Around 07:00 we wake up and get ready for breakfast. At 08:00 a van will swing by and pick us up for a whole day canoe trip in Phang Nga. From my room, I could see half of the Patong area, since my room is on the 21st floor. From the lift, I could see the whole Patong Beach area...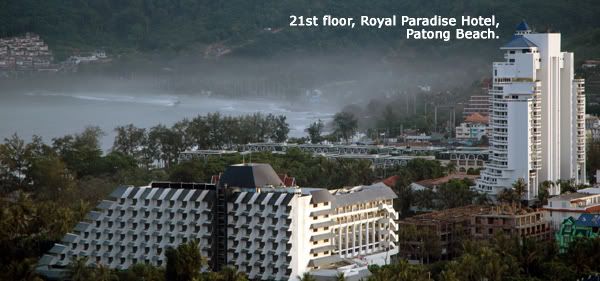 1 hour after, we reached the jetty where the big boats (more like a tongkang)with inflatable canoe in it await us. First destination is about 40minutes journey, Koh Phanak. It was a huge limestone island. At this moment I can only think of "it would be fun if I could some climbing here!" The rocks was a beauty. We stop infront of a small cave entrance and they start to unload all the inflatable canoe in the water. Each canoe can accomodate 2-3 person including our canoe boys. Hon, a person with a sweet smile is our canoe boy for the entire trip. Somehow, he resembles Mat Yue (Perhentian Beach Boy). The cave was dark and full with bats. We paddle through the darkness and water keep on dripping onto us. The exit was very low. All of us need to lie down flat on our back to get through. It was a huge lagoon, with green clear water, some monkeys and beautiful limestone creation.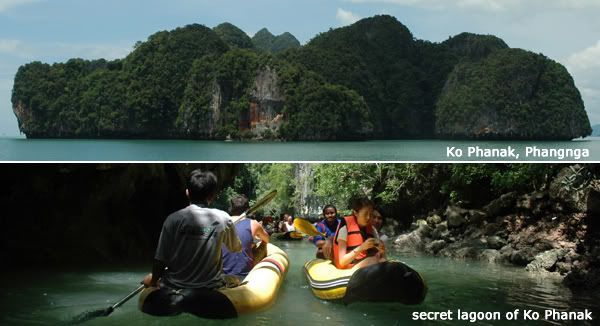 Next point is the Ko Hong, 15 minutes from Ko Phanak. More beautiful scenery can be seen here. There are some cameramans sitting by the shore taking your pictures with its famous landmark (picture below) and you can bought it for 200Baht once you reach the jetty.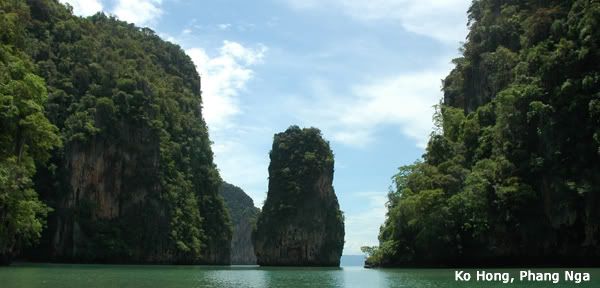 30 minutes from Ko Hong, we reach the famous James Bond Island. Here, there is a lot of stalls selling dried sea product, and lots lots of souvenirs. Bargain as much as you can here , if not you'll definitely be ripped off! Our last point is the Lawa Island, for a dipped. This is where Hon really make fun of us... Hahahah, it was really fun having Hon as our guide for the entire trip, though he only talk very simple english.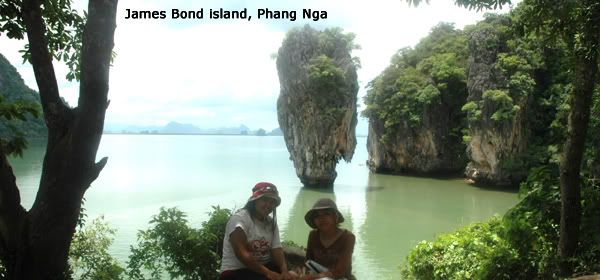 Reach our hotel at around 18:30, and we quickly get ready for next axtivity, Simon Show (cabaret show by beautiful men). The ticket cost 600Baht/person. A must-see show in your list. Overall performance by these beautiful men was awesome.
Note : Don't take pictures with them, cost its gonna cause you your wallet. Just take pictures of them, NOT with them, unless you are willing to spend more...
After the show, me and Ikha decided to walk around Bangla Road for the night life once again this time with cameras and DVD-camera. Definitely a different sight from Kuala Lumpur. We discover a 100Baht t-shirt store. The cheapest you can get around Patong. Of course Im spending my money here. Phuket, provocative, and more others wierd design are available here.. from XS to XXL in many different colours.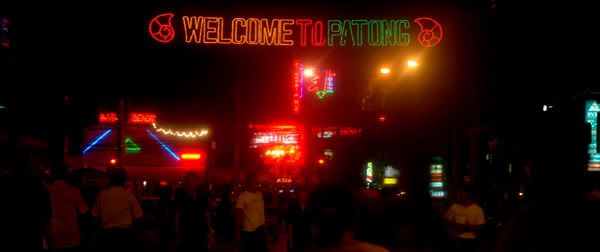 Day 03
Our final day in Phuket. Had our breakfast at the coffee house and head outside. Since the nightlife here ends about 4am in the morning, most of the stalls are open for business after 11am (including the money changer).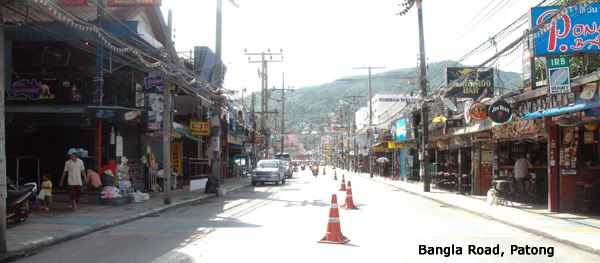 We walked trough Bangla Road heading towards the famous Patong Beach. There was a tsunami evacuation route and warning signs everywhere. We take more photos here, just a good feeling to hear the sound of the waves, while sand between your toes... Yes baby! Im in Patong Beach!!!

Last minute shopping, when we realized we are broke! No more Baht money.. Hehehhe, so we change more RM to Baht. A local we met during yesterday canoe trip did tell us where to shop (forget the place - again). The bazaar is about 10 minutes from our hotel.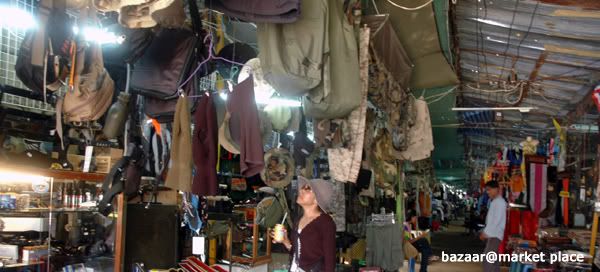 We decide to have a look at the 100Baht store for more t-shirt. This is the 100Baht store Im talking about. Good luck in finding the store.. We have 1000Baht left, and the store was closed!!! So sad...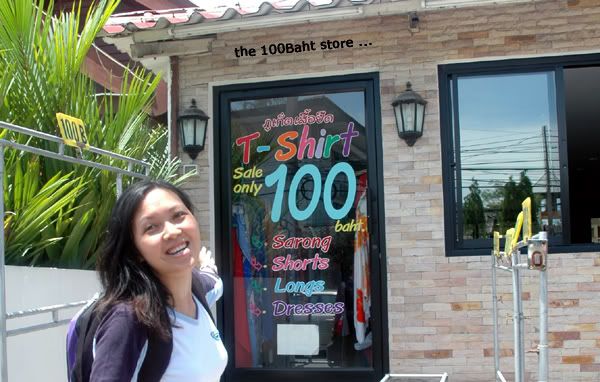 At 1pm, our ride arrive taking us back to the Phuket International Airport, 45 minutes away from Patong. 17:30 Kuala Lumpur time, we reached LCCT. It was indeed a short and enjoyable trip.
"What ever happens in Phuket, just leave it in Phuket..."

my Flickr site : http://www.flickr.com/photos/lartz/510225309/
Labels: island trip