Perhentian Escape
Pardon me for my super late post ...

DAY 01


Three of us arrived at the Besut jetty around 9am. With helped from Pak Din, a local, we manage to get a ride on the first speedboat to Perhentian Island. Round trip ticket will cost you RM60 for half an hour trip ride. Our destination is the Long Beach, Small Perhentian. As most people will say, that is the most happening and beautiful beach with approximately 1km of white sand beach. For Long Beach, we need to hitch a ride on the water taxi as there is no jetty available there (RM2 per person).
Our next mission upon arriving is to get a room for ourselves. Since its was a public holiday season, there arent any vacant rooms in Long Beach. There, we met with Mesour and Mat Yue who helped us find a room. Note : 90% of chalet/resorts on Long Beach is based on walk-ins, no booking here.


After about an hour searching, and pull some tricks, we did get a room. Better say its a RM20 per bed dormitory with a balcony sea view. Its was my 1st 3rd time in Coral Bay Beach. We stayed in Senja Bay Resort for the next 2 night. Settled ourself, take a nap after 8 hours journey from Kuala Lumpur to Besut due to the rain. Later that evening, we decide to dip our skins into the clear crystal water. We rent a canoe for an hour (RM5 per hour). The sea was clam as this beach is facing the mainland. We picked a wrong season, jellyfish season. Everywhere you could see them and unfortunately, Ida was stung. Luckily the resort staff have traditional remedies to cure it.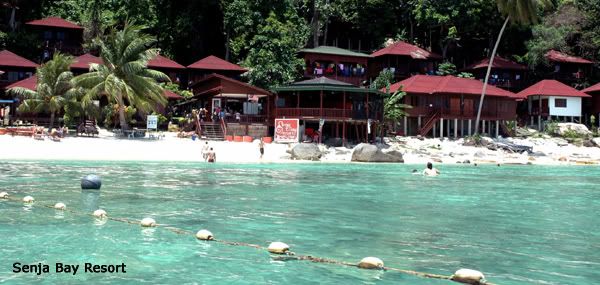 As the sun sets down, we can only think of SEAFOOD BBQ!!! Oh ya, the view from our room during sunsets was magnificent. After maghrib, we walked by the beach heading to a restaurant, Amelia, located about 500m from our resort. We ordered 3 different sets - kingfish, squid and crab. Each sets cost RM16 comes together with rice, baked potatoed, salad, desert and selected sauce. This restaurant serves about everything, and they do have night movies for the guest to eat and watch. As we waited for our food, we played some cards game to fill up the time...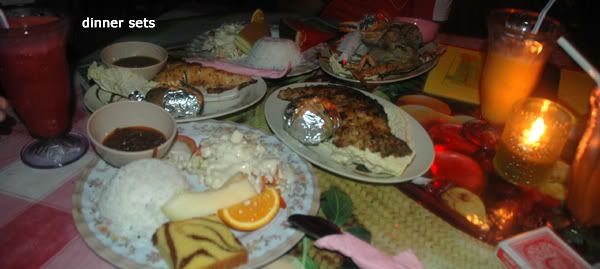 DAY 02


Woke up to the sound of waves splashing ... Took light breakfast which we brought along, and get ready to hit the beach, Long Beach. To get onto the other side, we need to walked through a pathway about 5 minutes from Coral Bay. Along the way, there is more resort under construction. We are suppose to meet Mat Yue at 11am for snorkeling trip, but somehow we are late by an hour. Basically we missed the trip and just had our time playing on Long Beach. And again, Im in lurve with its super crystal clear water and the white sand beach.


Whole day was spent by playing in the water, and eats at Ameen's Restaurant while playing more cards game. Beside Ameen's there is a row of souvenir shops. We walked into one of it and bought some stuff with bargain price. Thank to Ikha for her Kelantanis dialect that saves us! Around 5pm, Messour arrives and took us on his boat for short snorkeling trips. We stopped at 2 point - turtle point and shark point. Unlucky for us, there is no turtle by the time we reach, but we did spot a coral shark. We head back around 6.30pm just before its start pouring heavily.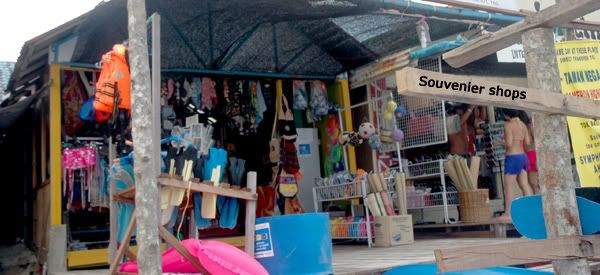 Messour drop us on Long Beach, and we walked back to our resorts. By 8pm, the rain stops. Mat Yue came knocking on our door and we head to Amelina's for dinner. We start ordering and play some cards, again!! Tonight, not many people around, due to the rain before.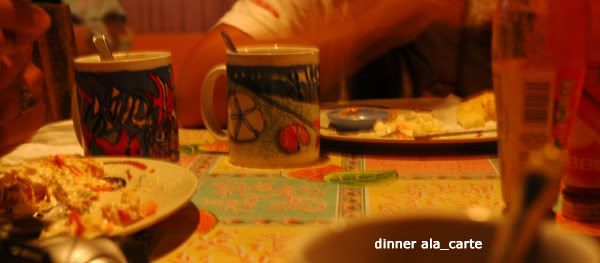 DAY 03


Woke up and get ready to go for another snorkeling trip with Messour. As we waited by the beach, we spotted a cast-away diver, named Mohammed from New York City. He do resembles Tom Hank in Cast Away.. Hehehe, we chat with his friend, which in return persuading us to stay for another day just to go for a dive. Impossible, since all our cash had run out.
Messour arrived, and we are on with some other locals and foreigners on the boat. We stopped by at coral point where the coral here was very beautiful. If only my Nikon D70 have its underwater casing. While snorkeling, we saw some jellyfish in our way. Just before we went back, Messour drop the other tourist at Kampung Pasir Hantu for lunch, and we head back to Senja Bay resorts.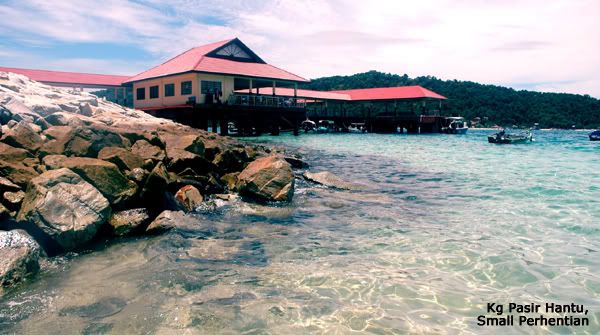 Packed our things, say goodbye to the other divers and Mat Yue. We took the 4pm ride back to Besut. It was a very bumpy ride as the tide are getting higher. Afternoon rides are much comfy and safe. Before heading back to Kuala Lumpur, we express our gratitude to Pak Din for helping us, shops some last minute souvenirs and bought some keropok ikan... 7pm we leave Besut and reach home at 2am.

My Flickr site : http://www.flickr.com/photos/lartz/481513874/

Labels: island trip